ntegrity has seen the negative impact of scepticism on NFPs bottom line. As much as millions have contributed to bushfire fundraising efforts, trust is still a significant issue.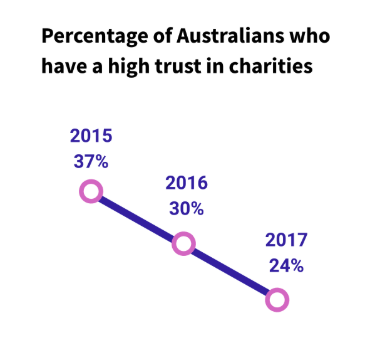 Source: 2017 ACNC Report
Richenda Vermeulen, founder and CEO of ntegrity, has identified six elements that Australian NFP's need to build trust with the public.
Over-communicate your impact
Highlight your experts, capabilities and subject matter expertise
Arm your donors to advocate for you
Communicate the long-term effort required
Don't shy away from the overhead conversation
When it comes to your spokespeople, consider long-term need over short-term gains
If you look below the surface, you'll actually discover that established NFPs are the most qualified to respond to a disaster. They have decades of experience in coordinating responses, with existing infrastructure and relationships in hard-to-reach communities. In the last six months alone, Australian Red Cross teams have responded to 30 emergencies, and the Salvos attend emergencies at least once every day of the year. – Richenda Vermeulen, Probono Australia
Read the full article at https://probonoaustralia.com.au/news/2020/01/bushfire-response-do-australian-nfps-have-a-trust-problem/